Sherman Oaks
Sherman Oaks is located in the San Fernando Valley, is close to two major freeways and is bordered by Studio City to the east, Van Nuys to the north, Encino to the West and Mullhulland Drive to the south.

Sherman Oaks was one of the first Valley communities to experience intensive real estate development. Anticipating the development of the Los Angeles Aqueduct in 1913, Los Angeles Suburban Homes Co. purchased 47,500 acres of the southeast Valley in 1910. In 1911, a subdivision map called Tract 1000 was filed with the county. From that parcel, one of the partners in the company, Gen. Moses Hazeltine Sherman, bought 1,000 acres for himself.

In 1927, Sherman subdivided the property and sold the land for $780 an acre. Over the years, many celebrities have lived in Sherman Oaks, including Stan Laurel and Oliver Hardy, Lou Costello, Marsha Hunt, Burt Kennedy and Hector Elizondo.
Points of Interest
Sherman Oaks Galleria
The Sherman Oaks Galleria is a state-of-the-art-open-air lifestyle center that includes 700,000 square feet of Class-A office space in three buildings overlooking a 300,000-square-foot- retail and entertainment complex. The Galleria is located at one of the nation's busiest intersections: the interchange of the 101/Ventura and 405/San Diego freeways.



Westfield Fashion Square
Westfield Fashion Square is located north of the 101 freeway off the Woodman Avenue exit in Sherman Oaks and offers more than a cool, air-conditioned place to spend the afternoon. The mall is anchored by Gap, Macy's and Bloomingdales and offers a play space for the children, a lounge for those in need of a place to relax.



La Reina
Located on Ventura Boulevard, the La Reina Theater, a single screen cinema, operated from 1938 to the mid 1980's. Currently only the facade remains and the interior is a shopping plaza.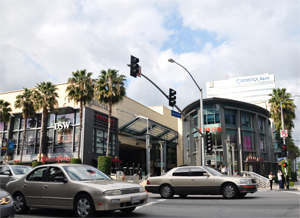 Restaurants
Public Schools
Sherman Oaks public schools are zoned to the
Los Angeles Unified School District
.
View test scores here, and here.
Chandler Elementary School
Dixie Canyon Elementary School
Kester Avenue Elementary School
Riverside Drive Elementary School
Sherman Oaks Elementary School
Millikan Middle School
Van Nuys Middle School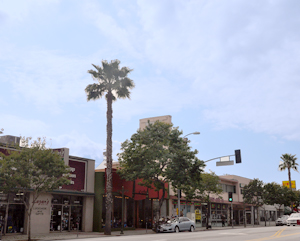 Private Schools
The Buckley School
Church of the Chimes
Notre Dame High School
Emek Hebrew Academy
St. Francis DeSales
Sherman Oaks Lutheran
Sherman Oaks Presbyterian
The Nurtury
Armenian Evangelical Schools of California
Bridges Academy
Cambridge School
Ferrahian Armenian High School
St. Cyril of Jerusalem
Community Statistics



People

Population:20,954
Median Age: 39.9
Married: 45.3%
Single: 54.7%
Average Household Size: 2.02 people
Median Household Income: $62,612
Housing

Median Home Age: 39 Years
Median Home Cost: $809,470
Home Appreciation: -15.80%
Homes Owned: 39.14%
Property Tax Rate: $8.38
Climate

Rainfall (in.): 12.8
Precipitation Days: 29
Sunny Days: 281
Elevation: 625 ft.
Education

School Expenditure per Student: $5,503
Pupil/Teacher Ration: 21
High School Grads: 93.05%
2 Yr. College Grads: 7.59%
4 Yr. College Grads: 28.93%
Graduate Degrees: 17.25%
Voting

Democrat: 63.102%
Republican: 35.598%
Independent Other: .282%
Independent Liberal: .409%
Independent Conservatives:.609%