Hancock Park
Bordered by Melrose to the north, Rossmore Avenue to the east, Wilshire Boulevard to the south and La Brea Avenue to the west, this upscale neighborhood is comprised mainly of single-family residences constructed in the 1920s. Hancock Park was developed by philanthropist G. Allan Hancock, who inherited 4,000 acres of land which his father had acquired from the Rancho La Brea property owned by the family of Jose Jorge Rocha. Architects such as Paul Williams, A.C. Chrisholm and John Austin were hired to design homes for many of the city's pioneer families including Doheny, Chandler, Huntington, Van Nuys and Crocker.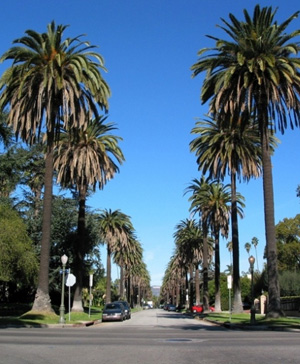 Points of Interest
Wilshire Country Club
Founded in 1919 and set in the historic Hancock Park area of Los Angeles, Wilshire Country Club was designed by Norman Macbeth as a links golf course with a natural stream running throughout, giving the course its unmistakable character and challenge. Wilshire, throughout the years, has hosted many great tournaments and groups such as the LA Open, the Senior PGA and the LPGA. The course remains a wonderful testament to great course design and remains one of Southern California's golf gems.



Windsor Square
Windsor Square runs from Wilshire to Beverly Boulevards, and from Arden Boulevard to Van Ness Avenue including the one-block strip of Larchmont Village, between First Street and Beverly Boulevard. Windsor Square is often mistakenly called "Hancock Park," even by long-time residents. But in fact, Hancock Park is the neighborhood immediately to the west. Windsor Square's homes have the same historic value as in Hancock Park, but most of the homes are built on a slightly smaller scale. Windsor Square consists of approximately 1,100 homes, and it is one of the oldest, most well preserved neighborhoods in Los Angeles. With its broad lawns, mature trees and central location five miles west of downtown, Windsor Square is a garden oasis in the heart of a world-class city.



Larchmont Village
Larchmont Village is centered on Larchmont Boulevard between Beverly Boulevard and 3rd Street. A street car went up and down the street until the 1940s ." Keystone Cops" chases were filmed on Larchmont Blvd. Larchmont Village is a quaint and friendly shopping district in the center of a bustling city. It is located in one of the oldest and most historically significant neighborhoods in Los Angeles and is bordered by some of the most well preserved older homes in the city, ranging from 1920's California bungalows to grand old estates. It is convenient to nearby Hollywood, downtown Los Angeles, and Beverly Hills. Larchmont Village serves as a Main Street retail district to Hancock Park, Windsor Square and nearby Paramount Studios, and is home to the Larchmont Chronicle. Hollywood and Vine Streets is about one mile to the north. Melrose is parallel to Beverly Blvd and a few blocks north. It became very trendy commercial area just to the west .



Paramount Pictures
Founded in 1912 and currently owned by media conglomerate Viacom, Paramount Pictures is the world's oldest existing American film studio; it is also the last major film studio still headquartered in the Hollywood district of Los Angeles. Paramount is consistently ranked as one of the top grossing movie studios.
Restaurants
Public Schools
Hancock Park public schools are zoned to the
Los Angeles Unified School District
,
Board District 4
.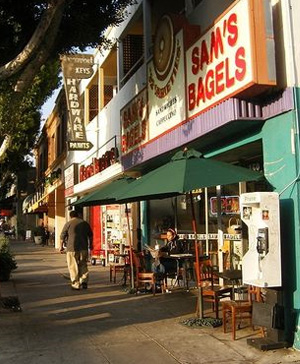 View test scores here, and here.
Los Angeles High School
Fairfax High School
John Burroughs Middle School
Bancroft Middle School
3rd Street Elementary School
Melrose Elementary School
Private Schools
Marlborough School
Yavneh Hebrew Academy
Community Statistics



People

Population: 70,809
Median Age: 32.6
Married: 49.83%
Single: 50.17%
Average Household Size: 2.88 people
Median Household Income: $30,373
Housing

Median Home Age: 47 Years
Median Home Cost: $725,800
Home Appreciation: -24.90%
Homes Owned: 116.72%
Property Tax Rate: $8.38
Climate

Rainfall (in.): 8.4
Precipitation Days: 34
Sunny Days: 292
Elevation: 410 ft.
Education

School Expenditure per Student: $5284
Pupil/Teacher Ration: 20
High School Grads: 58.39%
2 Yr. College Grads: 4.18%
4 Yr. College Grads: 15.05%
Graduate Degrees: 7.05%
Voting

Democrat: 63.102%
Republican: 35.598%
Independent Other: .282%
Independent Liberal: .409%
Independent Conservatives:.609%