Studio City
Only 12 miles northwest of the Los Angeles Civic Center, Studio City is nestled in the foothills of the north slope of the Santa Monica Mountains, a prime location for easy access to employment centers in Hollywood, Downtown, the Valley and Beverly Hills. The Ventura Freeway from Los Angeles and the San Diego Freeway from the coastal cities gives easy access to all of Southern California. Studio City is ideally situated for living, working or relaxing in Southern California.

Studio City received its name as a result of the filming activities of Mack Sennett during the silent film era in the 1920's. The sound stages Sennett built have been in continuous use by CBS Television. Until then, Studio City was a large parcel of rural land. Ventura Boulevard was only a country road and the Studio City Business District consisted of nothing more than a drug store, a grocery store, a small bank, a couple of hamburger stands and a few businesses. By the 1980's, Studio City contained about 25,000 people, and the only studio was the CBS Studio Center, a hundred feet or so north of Ventura Boulevard.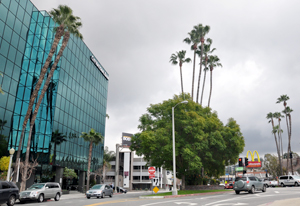 Points of Interest
Sportman's Lodge
The original Sportsmen's Lodge opened in the 1880s before the movie business existed and before Studio City had its name. In the first half of the 20th Century, the Sportsmen's Lodge was known for its trout-fishing lake where families came to catch and eat their own dinners, cooked courtesy of the lodge's restaurant. The lodge was frequented by many of the Republic Studios western stars.

In 1945, the property was renamed the Sportsmen's Lodge, and a formal restaurant and cocktail lounge were added. Guests were given rods and bait to catch their fish and make dinner. Clark Gable, Humphrey Bogart, Bette Davis and John Wayne are reported to have taught their kids how to fish at the Lodge's trout ponds. According to one account, the Lodge's trout ponds drew luminaries such as Tallulah Bankhead, Lena Horne, Bette Davis, and Joan Blondell, who baited hooks with liverwurst and drank martinis as waiters served dinner on white tablecloths.



CBS Studio Center
The studio was originally built for Mack Sennett, the producer and director of many films featuring the Keystop Kops, Charlie Chaplan and Fatty Arbuckle. After 5 years, Sennett was forced to sell, and sold the studio to Mascot Pictures. The studio changed hands several more times, becoming Republic Pictures Corporation, Revue Pictures, Universal Pictures and in 1963 becoming televisions CBS Studio Center where Gunsmoke, Rawhide and Gilligan's Island were filmed. Later, The Mary Tyler Moore Show and its spin-offs, Rhoda, Phyllis and Lou Grant were filmed at the studio as well. Currently The Studio Center serves as home to CBS's Los Angeles TV station, KCBS and KCAL-TV.



Fryman Canyon Park
Located in the eastern Santa Monica Mountains on the north side of Mulholland Drive, 122-acre Fryman Canyon Park offers spectacular views, a fitness course, and access to the Betty B. Dearing Cross Mountain Trail. The Dearing Trail traverses the park and connects to Wilacre Park, Franklin Canyon, and Coldwater Canyon Park. The park is abundant with native chaparral, year round springs, and deeply wooded canyons. The trail is open to hikers, equestrians, and dogs on leash and under owner's control. No mountain bikes are allowed on the Dearing Trail.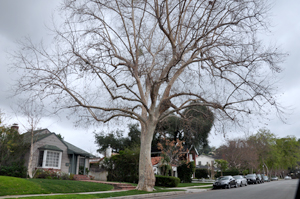 Restaurants
Public Schools
Studio City public schools are zoned to the
Los Angeles Unified School District
.
View test scores here, and here.
Carpenter Avenue Elementary School
Rio Vista Elementary School
Walter Reed Middle School
North Hollywood High School
Private Schools
Campbell Hall Episcopal School
Oakwood School
Harvard-Westlake's Upper School
Bridges Academy
Community Statistics
People

Population: 27,741
Median Age: 41.1
Married: 45.24%
Single: 54.76%
Average Household Size: 1.87 people
Median Household Income: $62,192
Housing

Median Home Age: 37 Years
Median Home Cost: $799,670
Home Appreciation: -23.50%
Homes Owned: 44.69%
Property Tax Rate: $8.38
Climate

Rainfall (in.): 12.8
Precipitation Days: 29
Sunny Days: 281
Elevation: 625 ft.
Education

School Expenditure per Student: $5,639
Pupil/Teacher Ration: 19
High School Grads: 93.06%
2 Yr. College Grads: 7.17%
4 Yr. College Grads: 32.02%
Graduate Degrees: 18.17%
Voting

Democrat: 63.102%
Republican: 35.598%
Independent Other: .282%
Independent Liberal: .409%
Independent Conservatives: .609%